Given the cost of postage these days, direct mail is primarily utilized to reach the crème de la crème. It has been well-established as one of the most intimate forms of marketing, reaching its targeted recipient's hands with little or no competition for his or her attention. Of course, it has its challenges. Failure to reach addressee is the most common frustration with a variety of reasons to blame including error, loss, destruction or negligence in delivery. Other circumstances also thwart the direct mail effort such as recipient vacations; procrastination in attending to personal mail; preoccupation with other more urgent matters; and, disdain for any unauthorized solicitations.




With so many difficulties in reaching your targeted market, we have found that in some instances, a large glamorous postcard accomplishes the direct mail task better than any other format. Why? A postcard can't miss its mark because there is no encumbrance of an envelope obscuring its message. When designed and produced properly, it is large, attractive and easy to glance at.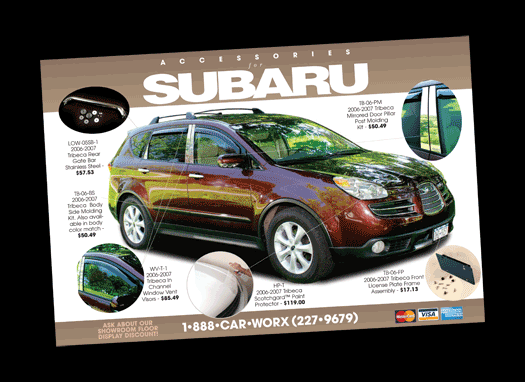 Above: A large direct mail postcard announces
a car accessory sale to dealers.

How does the Direct Mail process work?
After conceiving project focus and message, you need to decide to whom it will be mailed. If a client does not have an appropriate demographically selected mailing list to use, research can determine the availability and cost of a suitable list based on a variety of general parameters such as income, home value, age, interests, and more. After the project has been printed, mailing professionals use a supplied mailing list to address each piece, and follow strictly regulated postal standards to prepare it for delivery to a post office where it is processed, usually as first class or standard (third class) mail. Delivery can vary from a single day to several weeks, depending on post office performance and type of mail selected.