fter having successfully marketed a wide range of full-scale projects during four different decades, Mid-Hudson Marketing draws expertise from a broad business perspective and years of hands-on experience. Currently recognized as one of New York's top advertising agencies, based in the historic and beautiful Hudson Valley, this versatile company offers the best of marketing,
advertising
and
public relations
from a Dutchess County base, providing a nationwide clientele with sophisticated and high quality graphic design,
website development
,
branding
,
photo enhancement
,
direct mail
opportunities,
billboard/outdoor advertising
,
professional writing
,
SEO
, and much more.
The firm began in downtown Poughkeepsie, New York in a small office in the GSA building adjacent to the Civic Center on Main Street. This was during the mid-seventies when the Civic Center regularly welcomed some of the top musical acts of the time including Bruce Springsteen, James Taylor, and others. Soon thereafter, Mid-Hudson Marketing moved to 35 Market Street, to the Bardavon Building, where it had an extensive suite of offices and a large staff to accommodate such high profile clients as the U.S. Military Academy at West Point's Eisenhower Hall; Dutchess Bank (which eventually became Bank of New York and more recently, Chase); Danish Design Center; the Mid-Hudson Civic Center; Marist, Vassar and Bard Colleges; and others.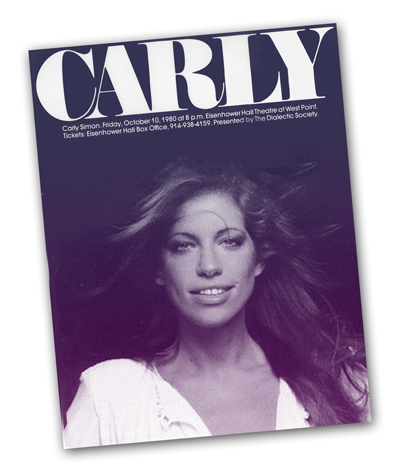 Above: A Mid-Hudson Marketing poster for a Carly Simon concert at the U.S. Military Academy at West Point's Eisenhower Hall in 1980
Time passed and a different era emerged as a result of the changing business climate in the Hudson Valley and nation, prompting Mid-Hudson Marketing to move uptown to Poughkeepsie's glamorous 11 Raymond Avenue location near Vassar College where it served a diverse group of successful clients for more than 22 years. These included the Dutchess County Economic Development Corporation; the Veterans' Administration at Castle Point and Montrose; Tuckahoe Roofing; Manfredi Contracting Corporation; the Eastern Pharmaceutical Technology Companies; and many others.
Currently, in its 38th year, Mid-Hudson Marketing has chosen to work from a serene lakeside location in Eastern Dutchess County's Holmes, in the Town of Pawling, where the environmental beauty inspires creativity and winning strategies for local, regional, national and international clients of outstanding repute. These include members of the legal community, as well as the engineering, real estate, roofing, healthcare, financial, home improvement, manufacturing and international scientific industries.
Using proven principles of marketing applicable to any type of business, Mid-Hudson Marketing's experience and versatility represent a wide variety of industry perspectives. Since marketing is an all-pervasive discipline which affects every aspect of business sales and communications, Mid-Hudson Marketing is able to offer clients a wide range of services, from the classic to the innovative, from the expected to the surprising.

These days, as this firm continues to evolve with the times, our clients rely on us to alert the media to their news; ghost-write their blogs; ghost-tweet their twitterings; ghost-post on forums; perform clutch photo revisions and enhancements; provide killer graphics for outstanding ads; design and develop cutting-edge websites; steer their branding with the compass of professionalism and generally guide their marketing with the wisdom only a lifetime of success can bring.

With most clients proficient in their own respective industries and professions, they share common ground in having limited expertise in the nuances of marketing acumen, trusting us for years with that responsibility. We are happy to report that those same clients have enjoyed consistently outstanding achievements while we've been at the helm.

We invite you to enjoy our extensive portfolio for an interesting visual and intellectual treat.